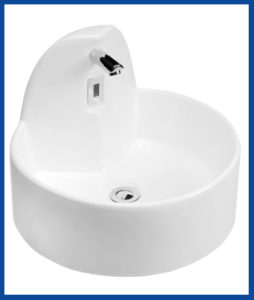 PRODUCT FEATURES+SPECIMEN:
MODEL NO: FBIWST1
Operating Type: Electrical & Battery Operated.
Water Pressure: 0.05 to 0.7mpa
Washbasin with Sensor Spout in Ceramic Material
Power Supply: 4A Alkaline batteries works for a period of 2years @ 200cycles each day.
Less Power Indication: The light is flashing in every 2secs when the electrical power is under 80% of the rated volts.
Electrical Cut Off Protector: The magnet type valve can be switched off if any voltage fluctuation.
Twin Mode Option: The Sensor faucet will work on AC Mode Option when there is no electrical supply in the washroom/toilet. It will be switched on to DC Mode later. (Recommended-Duracell Batteries Only)
Self off for Improper Power: When AC Mode is cut-off automatically or DC Mode is power off, it will be self closed/off.
Alternate Features:
1) Automatic Infrared Sensor
2) Water Saving
3) Cleanliness & Hygiene @ its best
4) Low Power Consumption
5) No more Open Taps
6) Green Environment
7) Body Color: White