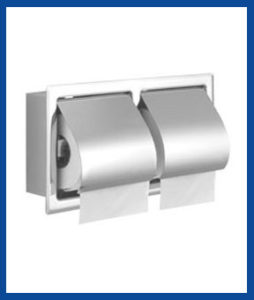 PRODUCT SPECIMEN:
Material Type: 18-8, SS304, (0.8mm)
Chamfered head to head, one pc with 4 countersunk holes for mounting.
Protectors(2): 18-8, SS304, (1.2mm)
Protectors are hinged to the shell.
Mounting of Brackets: Steel Clamps are fitted to the back of the unit
with metal screws for fitting in counter-top aprons or sturdy walls.
Shafts(2): Chrome plated Plastic. Harnessed with Internal springs.
PRODUCT INSTALLATION: Framed Opening 265mm W x 125mm H. Min Recessed Depth required from finished face to wall is 60mm thickness