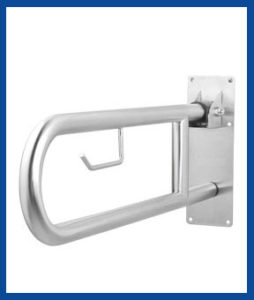 PRODUCT SPECIMEN:
Bar Type: 18-8, SS304 tubing of (1mm) with finishing of Satin.
Diameter of Grab bar: (25mm). Ends of the bar are properly welded.
Backpanel: 18-8, SS304, (5mm) thick, with finishing of Satin having provision of 4 screw holes to attach the same with wall.
OPERATING TYPE: The operations of the Swing-up grab bar is raised by hand OR can be lowered to horizontally type position for better support. When the grab bar is lifted to the upright position, the heavy weighted counter design protects the grab bar from falling it downwards to the sleeping position.
HOLDING CAPACITY: Swing-up grab bars can bear the strengths in excess to 113kilos. The said unit must be properly installed, adhering the barrier rules, guidelines & techniques.