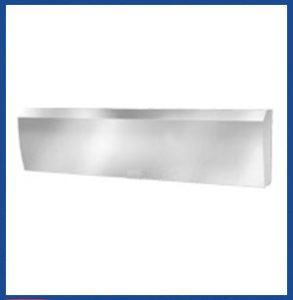 Mach Flow
TYPE: SS304 | SLIM STAINLESS STEEL AIR CURTAINS
MODEL NO:FBISAC3 | FBISAC1M | FBISAC4 | FBISAC5MODELS (CUSTOM MADE) FBISAC6 | FBISAC2M | FBISAC7 | FBISAC8
AIR VELOCITY: 19m/sec | 21m/sec | 24m/sec | 27m/sec
INSTALLATION:
Recommended Installation Height : 2.5m
Mounting Type : Vertical & Horizontal
Air Type : Ambient (No Heat)
Motion Sensor : Makes the Stainless Steel Air Curtain fully Automatic
Limit Switch : A Semi Automatic switch operated via external force
Note: Recommendation of the Installation heights may be liable depending on the relevant premises.
PRODUCT ILLUSTRATION:
Stainless steel SS304 construction with powder coating
Aerodynamically designed radial air flow fans with least noise levels
Stabilized dual shaft motors with centrifugal fan wheel construction
High efficient vibration free motor ensuring a running capacity of 5000hrs
Velocity control switch Hi – low
Thermal Overload Protector
Easy Maintenance
Available in different sizes 3ft | 4ft | 5ft | 6ft | 7ft | 8ft | 1m | 2m
DESIGN:
A very big thanks to our R&D experts. Our Stainless Steel Air Curtains are sleekest than any other steel curtains. They can be installed easily between the ceiling & upper edge of the Doors.