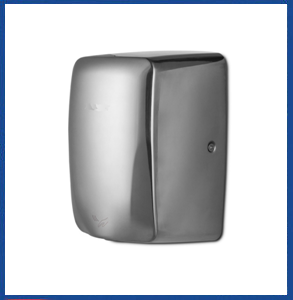 .

SAY NO TO PAPER
Protect the Trees from getting cut
.

HYGIENIC ENVIRONMENT
Keeps your hands &
washroom germ free

STURDY BODY

Perfect selection of material & design to protect from rusting
.

LESSER CARBON FOOTPRINT
80% lesser carbon footprint as compared to paper dispensers

NECESSARY FOR GREEN BUILDING
Least carbonic footprints compare to other products
.

BRUSHED MOTOR
for longer durability
.

SAVE POWER

90% Electricity saving compared to regular Hand Dryers
PRODUCT SPECIMEN:
Body: Steel 304, Mirror Finish
Mounting Type: Wall Mounting
Operating Type: Infrared Sensor
Hand Drying Time: Less than 20secs
Automatic Cut Off: 60secs
Sensing Range: 12 to 15
Motor Type: Brushless-AC Type
Motor Type: Brushless, Dual Ball Bearings
Speed: 25,000 Rotations per min
Voltage: 50Hz 220V
Wattage: 1350w (Motor 550W+800W Heating Element)
Power/Current: 15A
Class of Protection: IPx1
Air Volume: 270m3/h
Air Velocity: 60m/sec
Texture: SS Steel, Mirror Finish
    SUPER HIGH TRAFFIC
    HIGH TRAFFIC 
    MODERATE TRAFFIC