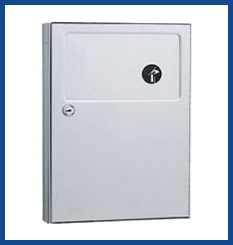 SANITARY NAPKIN DISPOSAL IN PUDUCHERRY

PRODUCT SPECIMEN:
MODEL NO: FBISND1
Outer Case: 18-8, Material type (SS304) Steel. A completely welded casing. All divulged bases have finishing of satin.
Company: Flyban Industries – PUDUCHERRY
Location: PUDUCHERRY
Door Flap: 18-8, Material type (SS304) Steel (0.8)mm thick with satinic finishing. Its protected to the outer case with the entire length piano type hinges. Comes with a lock & key operation.
Napkin Disposal Panels: 18-8, (SS304) (0.8)mm Steel with satinic finishing. The base edges are tailored for proper safety. Its protected to the outer case & perpetual panels which are spring loaded, Stainless steel material & having piano type hinges.
Waste Receptacle: Seepage & Rust Proof, Sturdily Molded. The unit is easily removable for servicing.
OPERATING TYPE: The said unit is arrayed with individual panel which covers each disposals opening. Sanitary Napkin Disposal is discharged by opening the cover with the key offered & than taking off the waste receptacles.