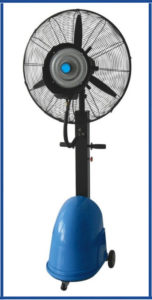 PRODUCT FEATURES+SPECIMEN:
Flyban-Outdoor Mist Fans & Misting Systems helps to cool & reduce temperature compelling it with the hot climate.
It is suitable for outdoor areas & the area coverage of the unit is 500 Sq.ft.
Mist Fans & Misting Fans can be used almost anywhere. If compared with an air conditioner, it is non-movable.
Our Outdoor Cooling Systems are portable & can easily be movable.
Such fans are recommended for Outdoor areas like Warehouses, Gymnasiums, Hospitality Tents, Stables, Barns, Manufacturing Industries, Food Industries, Bungalows, Party Lawns, Poultry enclosures to name just a few.
The outdoor spaces we've cooled with outdoor mist fans have included sports sidelines (portable cooling), car auctions, construction sites, spectator cooling areas, factories, warehouses, swap meets and emergency areas.
HEIGHT – 1.78m
Motor – 100% Copper | 500watts
Mist Maker – PP Hub
Grill – 2.2mm Thickness
Voltage – 220V Frequency 50/60 Hz
Speed – 3 with Oscillation
Tank Capacity – 41 ltr
Dropping Temp – 2-8oC
Spraying Distance – 5 to 8mtr
Air Flow – 138m3/min
Fan Size – 26''
Area Coverage – 50m2