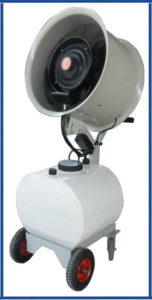 PRODUCT FEATURES+SPECIMEN:
Industrial Heavy duty Mist Fans & Humidifiers can help to cool & reduce temperature compelling it with the hot climate.
It is suitable for outdoor areas above 1,000sq.ft of area.
Our Heavy duty Humidifier/Mist Fan can be used almost anywhere whereas an air conditioner can't be used.
Such Heavy duty fans are recommended for Outdoor areas like Warehouses, Gymnasiums, Hospitality Tents, Stables, Barns, Manufacturing Industries, Food Industries & Poultry enclosures to name just a few.
The outdoor spaces we've cooled with outdoor misting system (outdoor cooling systems) have included sports sidelines (portable cooling), car auctions, construction sites, spectator cooling areas, factories, warehouses, swap meets and emergency areas.
HEIGHT – 1.78m
Motor – 100% Copper | 500watts
Mist Maker – PP Hub
Grill – 2.2mm Thickness
Voltage – 220V Frequency 50/60 Hz
Speed – 3 with Oscillation
Tank Capacity – 60 ltr
Dropping Temp – 2-10oC
Spraying Distance – 8 to 10 mtr
Air Flow – 138m3/min
Fan Size – 26''
Area Coverage – 100m2