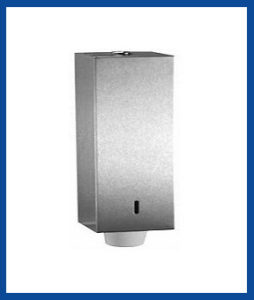 PRODUCT SPECIMEN:
Outer Cover: 18-8, SS304, (0.8mm) with finishing of Satin.
The unit comes with a malleable bracket for holding cups, It is also
equipped with a refilled indication slot & lock+key provision like other Flyban Washroom
accessories equipments. It is fitted on the wall with a mounting bracket which is with a full size piano hinge & sturdy stainless steel material.
Mounting Bracket: 18-8, SS304, (0.8mm) Stainless Steel material.
Body Material: Stainless Steel SS304
Magnitude: 3kilos
Size: 85 x 85 x 320mm