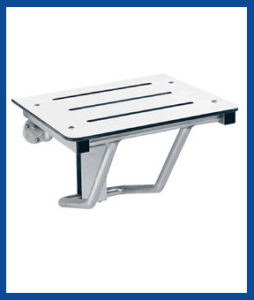 PRODUCT SPECIMEN:
Seat Type: Single piece, solidly glued pvc laminate with smooth matt finishing melamine base. Completely secured to frame it with SS (Steel) nuts and bolts.
Casing: 18-8, SS304 Steel having satin finish.
Mounting Flange Type: 18-8, SS304,with finishing of Satin.
Backpanel: 18-8, SS304, (5mm) Constructed with supreme grade stainless steel.
Mounting Techniques: Place the unit to the wall, having 2 mounted flanges which are to be located to the top, with base plate & guide the bracket below. The radical side of the supported bracket should be positioned between the base plates & guide the bracket before they are installed to partition or wall. Installation of shower seat must be compatibile as per the local building established ways