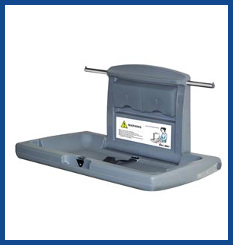 .
PRODUCT FEATURES+SPECIMEN:
Sturdy and Resilient HDPE Material. It has a shrouded air filled cylinder with metal mounting body. Its chassis offers slow opening & slow closing of the station. It is easy to clean & prevents from any sort of bad odors as well as growth of bacteria. It is outfitted with a protection belt to safeguard the baby while changing the diapers on the table.
Max Load Capacty: 25kg
Body Color: Grey
PRODUCT INSTALLATION:
It is a  very simple to install.  It is  suggested  that a qualified person / carpenter  can perform the mounting of the unit. The  unit  should  be  mounted   properly on the wall which is able to bear the weight & can be compatible with the supplied hardwares.