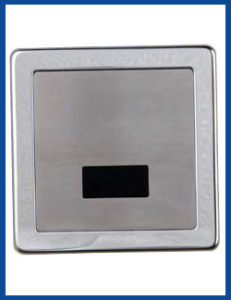 PRODUCT FEATURES+SPECIMEN:
MODEL NO: FBIUS2
Operating Type: Automatic (Battery Operated)
Saving Water: The tap starts working when your hands come into the sensing range & will stop automatically when you draw it back. This saves water intensely. (Note: The Urinal Flusher/Sensor is going to flush 0-5 to 1.0 Ltr in post operation mode. The pressure of the water should be anywhere between 0.3Mpa to 0.6Mpa)
Water Sanitation: Open & Close the tap on your own. This avoids bacteria, & free from any kind of touching.
Astuteness: Works with the help of a mini computer & its a self adjusted detection zone. No manual adjustments required. Thus faucet can automatically be adjusted to the detection zone.
Avoids water wastage dramatically. The self stopping function at an interval of every 1 or 2 minutes detection, helps to save water.
Power Supply: 4A Alkaline batteries works for a period of 2years @ 300cycles each day.
Water Pressure: 0.05 to 0.7mpa
Fights with Bad Odour: Flushes automatically in every 24hrs, even if the washroom/toilet hasn't been occupied. This can prevent the bad odour from moving around the room though there is a dry trap.
Mounting Type: Having a concealed installation technique, the beam/wall should be deeper than 10cms.
Twin Mode Option: The Urinal Sensor will work on AC Mode Option when there is no electrical supply in the washroom/toilet. It will be switched on to DC Mode later. (Recommended-Duracell Batteries Only)
Self off for Improper Power: When AC Mode is cut-off automatically or DC Mode is power off, it will be self closed/off.