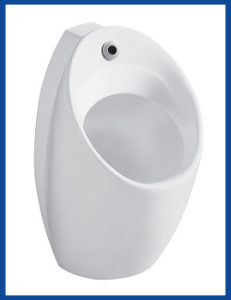 PRODUCT FEATURES+SPECIMEN:
MODEL NO: FBICUS1
Operating Type: Automatic (Battery Operated)
Before & After Auto Self Flush – (Red) Infrared Sensor
Water Outlet Area: 0.5 to 1Ltr/flush
Infrared Sensing Range: 40 to 70cms
Escalating Type: Wall Mount
Life of Battery: 4xAA (Recommended-Duracell Batteries Only)
Water Saving Apparatus: Upto 66%
Outfitted for Green Building.
Body Type: Ceramic Material – Urinal Sensor
Automatic Flush: Water will be flushed automatically with the help of infrared sensor.
Saving of Water: Can flush 1 or 2 intervals according to its different busy time.
Mode of Sanitation: When anybody leaves the infrared detection area/toilet area, the unit will have an auto start and will flush automatically. Such super clean areas, makes us hygienic & prevents us from any infections.
Astuteness: Works with the help of a mini computer & its a self adjusted detection zone. No manual adjustments required.
Less Power: 4A Alkaline batteries works for a period of 2years @ 150cycles each day.
Fights with Bad Odour: Flushes automatically in every 24hrs, even if the washroom/toilet hasn't been occupied. This can prevent the bad odour from moving around the room though there is a dry trap.
Alternate Features:
1) Automatic Infrared Sensor
2) Water Saving
3) Cleanliness & Hygiene @ its best
4) Low Power Consumption
5) Green Environment
6) Body Color: White
RELATED PRODUCTS