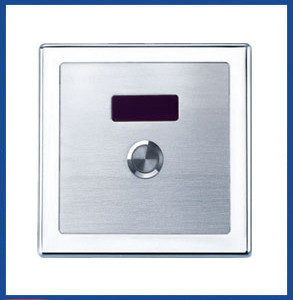 AUTOMATIC TOILET FLUSHER IN BENGALURU
PRODUCT FEATURES+SPECIMEN:
MODEL NO: FBIAWTF1
Company: Flyban Industries – BENGALURU
Location: BENGALURU
Operating Type: Electrical & Battery operated.
Auto Flush: Can be flushed automatically by Infrared Sensor.
Saving of Water: Can flush 1 or 2 intervals according to its different busy time. It has got a flushing capacity of 2to5 litres of water when used within a span of 10secs in washroom/toilet area.
Mode of Sanitation: When anybody leaves the infrared detection area/toilet area, the unit will have an auto start and will flush automatically. Such super clean areas, makes us hygienic & prevents us from any infections.
Astuteness: Works with the help of a mini computer & its a self adjusted detection zone. No manual adjustments required.
Less Power: 4A Alkaline batteries works for a period of 2years @ 150cycles each day.
Fights with Bad Odour: Flushes automatically in every 24hrs, even if the washroom/toilet hasn't been occupied. This can prevent the bad odour from moving around the room though there is a dry trap.
Mounting Type: Having a concealed installation technique, the beam/wall should be deeper than 10cms.
Twin Mode Option: The infrared sensor will work on AC Mode Option when there is no electrical supply in the washroom/toilet. It will be switched on to DC Mode later. (Recommended-Duracell Batteries Only)
Self off for Improper Power: When AC Mode is cut-off automatically or DC Mode is power off, it will be self closed/off.
shatterproof: If the automatic infrared sensor is not working, the unit can be used manually too.
Application Area: Washroom/Toilets