Welcome to FlyBan Industries (I) Pvt Ltd. is a Private Limited company registered as per Indian Companies Act 1956. This company is promoted by Mr. Meghani V.M who is having more than 23 years of experience in Production, Installation, Testing & Commissioning of a wide range of Washroom Automation, Entrance Automation & Eco Friendly Products. The main objective of the company is to participate in the Global hygiene for all by innovating products and technologies to keep the environment totally safe and free from diseases.
FlyBan Industries was established in the year 1989 being one of the fast progressing manufacturers, suppliers & exporters of Washroom Automation, Entrance Automation & Eco Friendly Products.
As an ISO 9001:2000 certified organization, we strictly implement the high quality standards in our all stages of our manufacturing process. Our manufacturing facility is spread over the large area and equipped with high-capacity machines. Furthermore, we have an efficient team of engineers, designers and administrative staff. Backed by the efficient team and high-capacity infrastructure, we have been able to meet the client's orders within the stipulated time frame. Furthermore, we design our comprehensive range strictly as per the specification layouts of the customers.
Fabricated in accordance with international quality standards, our products are extensively used in various industries and residential areas. We use premium grade raw material procured from reliable vendors for the manufacturing of our products. Furthermore, these equipment can be easily customized in accordance with client requirement and are delivered within specified time frame.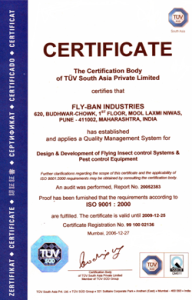 Our Quality Assurance
As a ISO 9001:2000 certified organization, our top priority has been to maintain high quality in our entire range of products as per the industry defined standard. To meet our objective of high quality standard in our comprehensive array, we have established a modern infrastructure setup consisting of production, quality assurance and other departments. Our quality control specialists work hard to meet the ISO guidelines in our each product during the manufacturing process. The numerous quality parameters to test our comprehensive array are :
Tensile Strength
Impact Resistance
Tolerance
Safety
Performance
Reliability
Research and Development
To meet the growing demands of the South East Asia, Indian Subcontinent and other markets, we have established a sophisticated research & development laboratory. Our R&D scientists initiate formulation of new production process and cost-effective design based on intensive market surveys. The professionals engaged in R&D unit works in coordination with production and other departments of the organization, to understand the exact demands of the customers.
Client Satisfaction
We are a client centric organization and strive hard to fulfill the client's expectation in precise manner. Our manufactured products strictly conform to the ISO 9001:2000 quality standard. Furthermore, we strictly design our product range as per the specifications of the customers. Our range is offered to the customers at market leading prices and easy payment terms. To understand the changing tastes and behavior of the customers, we have set up a modern R & D laboratory. Our R & D expert make intensive market research to innovate new product design and cost-effective technology. Our comprehensive client oriented initiatives has enabled us to effectively meet the customers demands.
Why Us?
State of the art production, R&D, Quality Control and Supply facilities
Highly experienced and dedicated team of young professionals
Strict adherence of ISO 9001:200 quality standard
Cost effective price
Multi payment options
Completion of client's orders within the stipulated time frame